~ Home ~ Wallpaper ~ Themes ~Links ~Sreensavers ~Registration~

To Download, on most of these, click on the Screensaver previews below or the button.
Unless stated otherwise, Most of my Screensavers are limited time shareware. You are free to enjoy them for 5 -7 days before registering. After that you will need to pay a small Fee for the saver to continue to work. ($4.99) This will unlock it forever and get rid of any nagware. This small fee helps to cover my software & equipment upkeep so that I may continue to make these creations for you! Thanks so much for your support!

Important!!! I store my Downloads on other sites for hosting. They do have Pop ups, and they do wrap the files w/ other programs! When you Download a file it will might say you are Downloading an exe file. This is no big deal. Just choose not to install the the other programs when you install my wallpaper, theme, or Screensaver! I suggest you get a good pop up stopper and enable it before Downloading! I apologize in advance for any inconvenience this may cause. But this is the only way that my host can pay for their expenses.

Spirit Board NEW!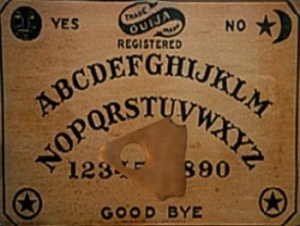 This screensaver behaves like a Real Ouija board. Ask a question and wait for the answer. Sounds include A full length Re-Mix of the song Tubular Bells (theme from The Exorcist), and some other goodies. Please use this board w/ care as you would any other traditional Spirit Board. There is an entire Desktop Theme on my Themes page that includes this Saver if you would like it instead. Due to the nature of this Screensaver you MUST use the esc key to stop it!
Winter at my Mountain Home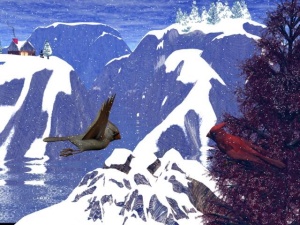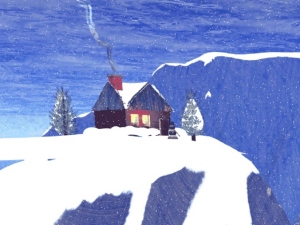 This Screensaver has complete song A Winters Night, Snow falling, Female Cardinal Flying, candle light twinkles smoke swirls, Animated scene featuring Close up of Cabin opens saver.
What Dreams May Come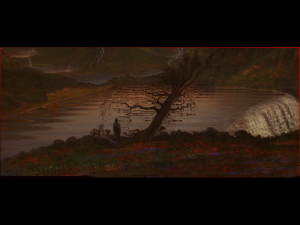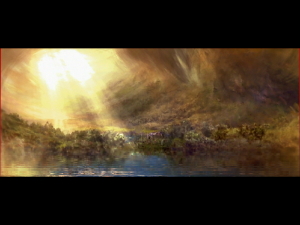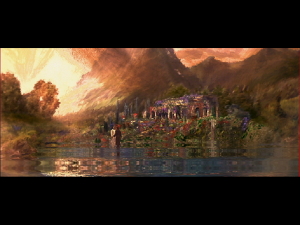 This Screensaver is based on the movie by the same name. This Breathtaking world is literally being painted around them as they go with real paint none the less! This Screensaver has 3 widescreen shots, all w/ lake effect, one w/ multi waterfalls. Saver Contains full song Beside Me By: Simply Red. Enjoy it for 7 days free!
Cool Change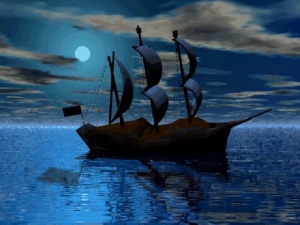 This screensaver cycles between 3 screens. All three screens have lake effect applied. One is the original wallpaper (which can be viewed on the theme page) , two is the same screen w/ the boat gently rocking in the distance, three is a close up shot (shown above) in which the boat gently rocks and the moon rays change slightly. Midi music includes LRB's Cool Change and others. Try it free for 5days and register for only 4.99!
Moonlight Worship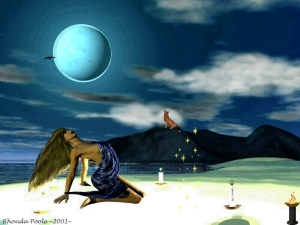 This time limited saver has lake effect, spinning moon, howling wolf, animated torch, magic sparkles, extra clouds, slight ocean sounds, and midi music by Jewel.
Dragon Jewels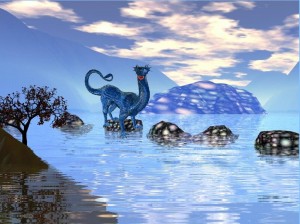 This Screensaver has animation, lake effect, background ocean sounds, and the Midi "Puff the Magic Dragon". This Dragon Shows his true nature in the screensaver! You've got to see it to believe it! You have 5 days to enjoy it and decide if you want to register it!
Magic Daydreams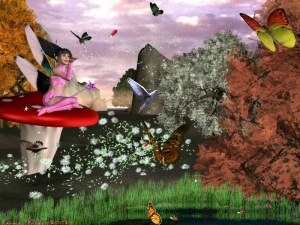 Matches the Theme! A beautiful young faerie sits atop a mushroom practicing her magic! Butterflies, a dove, flower petals, magic sparkles float here and there while the midi "Do you believe in magic" plays! The pond at the bottom also has the lake effect applied to it. Try this absolutely free for 5 days. Then if you like it please register it. Thanks!
Diamonds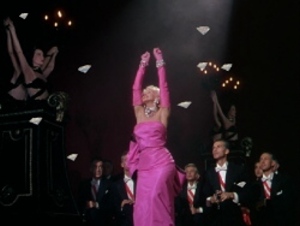 Matches the Theme with the same name! Marilyn from Gentlemen Prefer Blondes in that famous scene! This includes the full length song and diamonds (static & animated) fall here and there while it plays.
Page Last updated on October31st ,2003